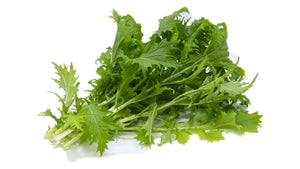 Mizuna
Sale price Price ₱250.00 Regular price Unit price / per
Brassica rapa var. niposinica

Mizuna greens have a number of health benefits and are considered by many to be one of the 'super foods'. Highly recommended by health experts, one cup of Mizuna greens can provide high quantities of Vitamins A, C, E and K as well as minerals like folate, iron and manganese. These plants also have potential cancer fighting benefits.
This product is sold for ₱250 per 125g. To order more, raise the quantity to your desired weight.
Please make sure you read the delivery information before ordering.