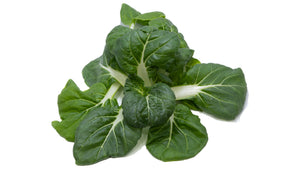 Baby Pak Choy
Sale price Price ₱250.00 Regular price Unit price / per
Brassica rapa subsp. chinensis
Pak Choy is high in nutrients and low in calories. As a cruciferous vegetable, it contains anti-cancer properties and is high in fiber. It's high nutrients include iron, phosphorous, calcium, magnesium, zinc, and vitamin K. All these, give Pak Choy healthy properties that aid in lowering high blood pressure, promotes healthy heart and skin, and raises the immune system. 
Each product is sold for ₱250 per 250g. To order more, raise the quantity to your desired weight.
Please make sure you read the delivery information before ordering.